Mink (Mustela vison)
The Mink (Mustela vison) is a member of the Mustelid family which also includes Stoats, Weasels, Ferrets, Badgers and Otters.
The Key Facts About Mink…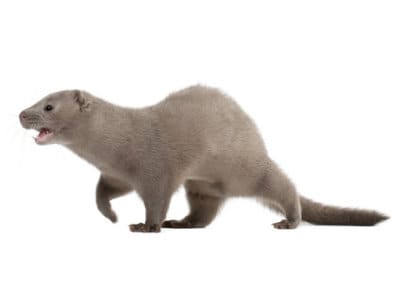 Most Mink (Mustela vison) are dark brown, almost black, in colour with a white patch on the chin. They have a prominent scent gland adjacent to the anus which can release a pungent smell. Males are about twice the weight of the females.
The Mink was first introduced to Scotland from North America for fur farming. Escapes and releases have lead to the Mink (Mustela vison) becoming widely established in the wild with river systems becoming their main habitat.
Mink (Mustela vison) Significance of Control…
Most suitable river systems in Scotland have now become occupied by Mink (Mustela vison) which has lead to a significant impact on the local fauna. In particular, the catastrophic decline in Water Vole populations has been due to heavy predication by Mink.
In addition to predation of wild fish, mammals and birds, Mink (Mustela vison) will kill a wide variety of domestic poultry, small pets, game birds, ornamental waterfowl and commercial stocks of birds or fish. If presented with the opportunity they will kill more that their immediate requirements for food, a habit known as surplus killing. This can result in economic losses and is the main reason for the Mink being considered a pest.
Call Pest Solutions to Get Rid of That Pest Today..!
Pest Solutions provide an expert staff of Pest Control qualified professionals who are right here around the clock to assist you with any Unwanted Pest related troubles. Mink (Mustela vison). Pest Solutions have local coverage all over the United Kingdom allowing our expert technicians to react quickly to take care of your pest infestations . Have a member of our team help you today.
Find your local branch here or call Freephone 0800 027 2555 today to arrange a FREE Survey or a service call.