Moles (Talpa europaea)
The Mole (Talpa europaea) is a member of the Insectivore family.
The Key Facts About Moles…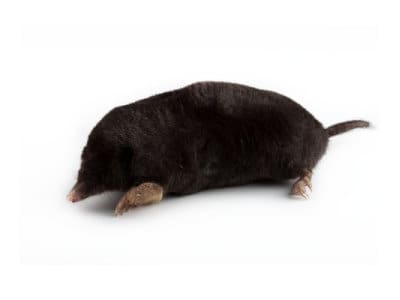 Moles (Talpa europaea) have a cylindrical body which is about 12-16cm in length, weigh about 110g and are covered with black velvety hair. Moles are well adapted for burrowing with large spade like forefeet turned permanently outwards for digging. The eyes are very small and hidden among the fur, but well capable of detecting light.
The Mole (Talpa europaea) is very common throughout mainland Scotland but is absent from some off shore islands. Moles are solitary and prefer areas where the soil is suitable for tunneling and tend to be found on permanent grassland or woodland. They can also be found on playing fields, parks, cemeteries, golf courses and private gardens where they are considered a pest.
Mole (Talpa europaea) Significance of Control…
The most significant type of damage caused by Mole activity is in agriculture. The inclusion of soil from Mole hills in grass silage can result in spoilt unpalatable silage and is a possible source of the disease Listeriosis in sheep fed on silage.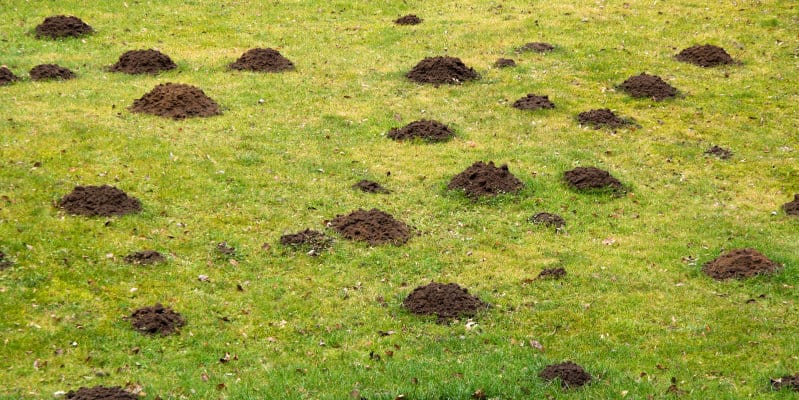 Mole (Talpa europaea) hills may also be unsightly on amenity and sporting grassland and result in unevenness of the surface. In some cases this can lead to injury of sports people and walkers who trip on the uneaven ground. They are particularly unwelcome on the expensive turf of golf greens and bowling greens. Mole hills can also cause damage to mowing machinery by throwing up stones.
Mole tunneling activity can disturb archaeological strata in historically important areas. Also, underground security systems can be interrupted or triggered by Mole (Talpa europaea) activity.
Call Pest Solutions to Get Rid of That Pest Today..!
Pest Solutions have regional Branches across Scotland, England, Wales and Northern Ireland . Our skilled local specialists are at hand to attend today. Mole (Talpa europaea). Call now to get an experienced Pest technician visit and get that Pest problem under control rapidly.
Find your local Pest Solutions branch here. Call 0800 027 2555 today for a FREE survey or to arrange a service technician visit.