Visual Bird Scaring Systems
Visual Pest Bird Scaring (Live and Dummy Predator Birds). Dummy Predator Birds, such as life sized plastic replicas of North American Eagle Owls, and Flying Falcons are often used.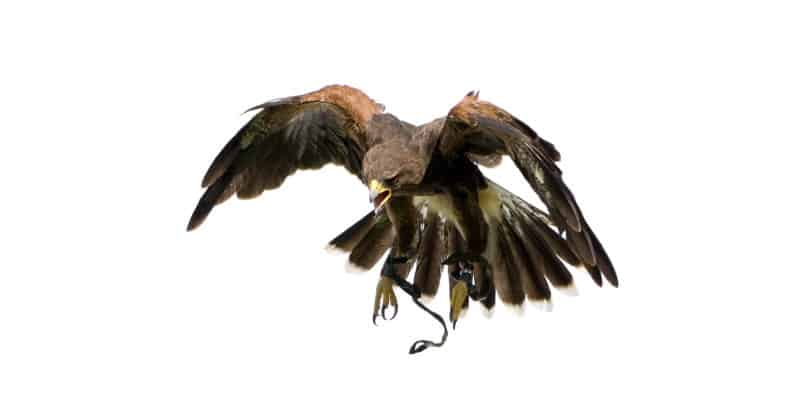 Visual Bird Scaring Systems Are Effective Only When Used Correctly…
These do not work when just left in place on a ledge as is often done. In these circumstances, pest birds will soon become accustomed to them and ignore or use them as a perch etc. However these Dummy Predator Birds can be useful as part of a wider scaring strategy incorporating an Audible Pest Bird Scaring System and frequent resiting of the Dummy Predator Bird to help avoid the pest birds from becoming habituated to them.
Live Predator Birds are a Form of Visual Bird Scaring…
Another Visual Deterrent is to fly a Live Predator Birds, such as a Harris Hawk, to scare pest birds away from infested areas. Many people are impressed with the apparently immediate effect of this form of pest bird deterrent, but this is only due to the immediate presence of the Predator Bird.
The use of Live Predator Birds can be effective. However, requires to be carried out in a structured repetitive manor as when the Predator Bird is no longer present the pest birds will quickly return. For the best results the use of Live Predator Birds should be carried out only as part of a wider reaching programme of bird deterrent measures such as Audible Pest Bird Scaring and / or Proofing.
Pest Solutions are Pest Bird Control Specialists. Pest Solutions, based in Glasgow, carry out all aspects of Pest Bird Control throughout Scotland. We can provide and install all types of Visual Pest Bird Scaring System, fly Predator Birds (Harris Hawk) and install all other pest bird deterrent systems. Contact us today for more information or a free survey.
Our expert team of pest bird control specialists are highly trained and carry IPAF and PASMA certification to ensure that all work carried out at heights is done in a professional and safe manor.
Call Pest Solutions to Get Rid of That Pest Today..!
Extensive UK coverage from our many local regional branches gives Pest Solutions the capability to react speedily to assist you to take care of your unwanted Pests today. Visual Bird Scaring Systems Call today to get an experienced Pest technician visit and get that Pest problem under control quickly.
To have a member of our Pest Control service team carry out a FREE survey or a service visit today phone 0800 027 2555. Alternatively click here to find the details of your local Pest Solutions branch.