Bird Wire Systems
Pest Bird Wire Systems are a cost effective, extremely versatile and totally Humane Bird Deterrent system which can be used effectively to keep Pigeons and Gulls off buildings and structures. Sprung Bird Wire Systems can be adapted to fit almost any building or architectural feature. This system is only suitable for light to medium Pest Bird Infestation pressures.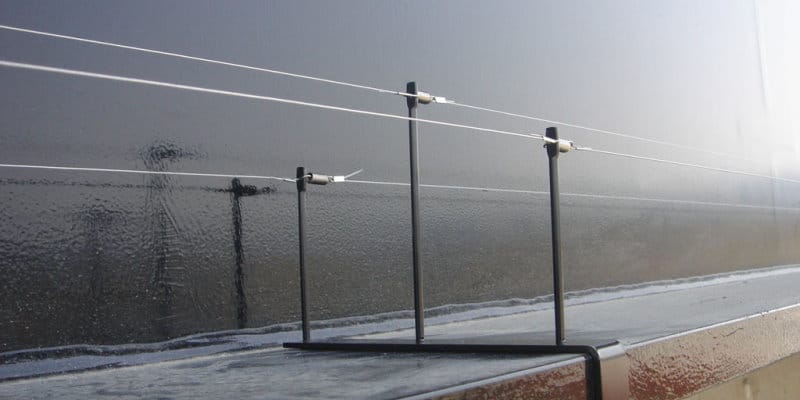 Effective Ledge Protection With Pest Bird Wire Systems…
Pest Bird Wire Systems are extremely discreet and can be used to protect ledges, parapets, signs, beams, architectural features etc.
This system consists of thin stainless steel wires, tensioned with springs, just above a ledge or other feature used by the Birds. The wires present a physical barrier to the Birds normal landing behavior and even if they do find a way to land, the unstable feel of the wires will deter all but the most persistent Birds.
When properly installed, professional Pest Bird Sprung Wire Systems are extremely discreet and very difficult to see from just a few metres away.
Pest Bird Wire Systems Protect Your Structure Form Birds…
Pest Solutions carry out all aspects of Pest Bird Control in all areas throughout the UK. We can provide and install all types of Pest Bird Wire Systems and all other Pest Bird Deterrent systems. Contact us today for more information or a free Pest Bird Control survey.
Our expert team of Pest Bird Control Specialists are highly trained and carry IPAF and PASMA certification to ensure that all work carried out at heights is done in a professional and safe manor.
Call Pest Solutions to Get Rid of That Pest Today..!
We've teams of hugely knowledgeable Pest Control Management professionals in your city ready to come and help eliminate that Pest problem today. Pest Bird Wire Systems. With Branch locations all through the United Kingdom. our service teams are perfectly located to help you get rid of your Unwanted Pest issues. Call today for a quick response.
Find your local Pest Solutions branch here. Call 0800 027 2555 today for a FREE survey or to arrange a service technician visit.