Gull Wire Systems
The Gull Parallel Wire System is an alternative to a roof net for Gulls and uses similar brackets and the same tensioned perimeter straining wire as the net installation. The system uses orange nylon coated wire spaced at about 400m centres which is visible to the Gulls and stops them from landing by contact with their wings.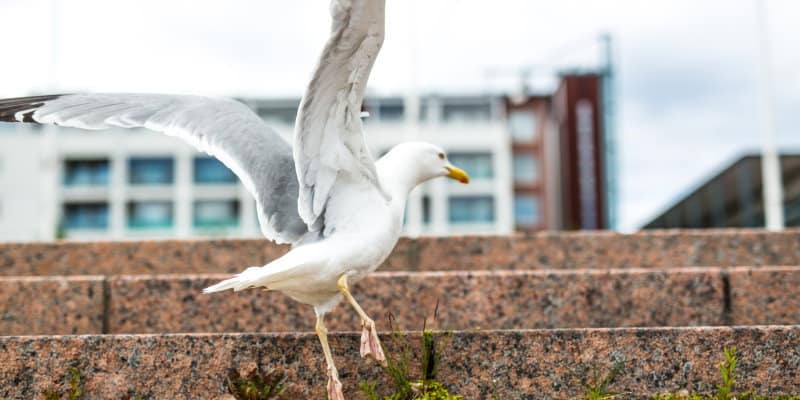 Gull Parallel Wire System is an Effective Gull Deterrent…
A Gull Parallel Wire System can blend into some buildings better than a net, and can be used where the appearance of the net on a roof might be a concern. This system also allows easier access to the roof area for maintenance as it is possible to walk between the wires. This type on system is also less susceptible to damage in high winds than a large roof net.
Protect Your Roof From Gulls With The Gull Parallel Wire System…
When properly installed, a professional Gull Parallel Wire System is reasonably discreet and difficult to see from ground level.
Pest Solutions carry out all aspects of Pest Bird Control throughout the UK. We can provide and install all aspects of the Gull Parallel Wire System and all other pest bird deterrent systems. Contact us today for more information or a free survey.
Our expert team of pest bird control specialists are highly trained and carry IPAF and PASMA certification to ensure that all work carried out at heights is done in a professional and safe manor.
Call Pest Solutions to Get Rid of That Pest Today..!
Extensive United Kingdom coverage from our numerous local regional branches gives Pest Solutions the capability to respond speedily to help take care of your Pest Infestations today. Gull Parallel Wire System. Call now to get an experienced Pest technician visit and get that Pest problem under control swiftly.
Find your local Pest Solutions branch here. Call 0800 027 2555 today for a FREE survey or to arrange a service technician visit.