Chimney Guard Bird Deterrent System
The Chimney Guard Pest Bird Deterrent System prevents Jackdaws from entering chimneys for nesting, and helps to prevent Gulls from landing and perching on chimney pots.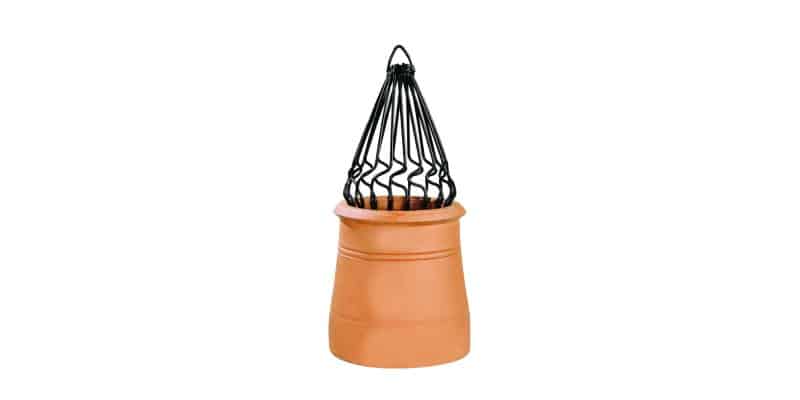 Protect Chimney's With The Chimney Guard Bird Deterrent…
The design shown to the right will fit most standard sized chimney pots. The Chimney Guard is pushed inside the pot where it is naturally held in place under slight tension of the sprung steel construction and therefore does not require any additional support fixings.
The Chimney Guard Bird Deterrent is Designed To Fit Almost All Chimney's…
The Chimney Guard System is available in several sizes so the chimney pot size must be determined prior to selecting the correct sized guard to fit.
The installation of the Chimney Guard System will not affect the normal function of the chimney.
Pest Solutions Pest Bird Control Specialists. Pest Solutions, based in Glasgow, carry out all aspects of Pest Bird Control throughout Scotland. We can provide and install all aspects of the Chimney Guard System and all other pest bird deterrent systems. Contact us today for more information or a free survey.
Our expert team of pest bird control specialists are highly trained and carry IPAF and PASMA certification to ensure that all work carried out at heights is done in a professional and safe manor.
Call Pest Solutions to Get Rid of That Pest Today..!
Extensive UK coverage from our many local regional branches gives Pest Solutions the capability to react speedily to assist you to take care of your unwelcome Pests today. Pest Bird Spike Systems. Call today to get an experienced Pest technician visit and get that Pest problem under control quickly.
To have a member of our Pest Control service team carry out a FREE survey or a service visit today phone 0800 027 2555. Alternatively click here to find the details of your local Pest Solutions branch.