Bird Spike Systems
Pest Bird Spike Systems are predominantly used against Pigeons and Gulls. Normally suitable for up to medium Bird pressure, although heavy duty spikes can be used in heavy pressure Pigeon infestations provided other management controls are also implemented.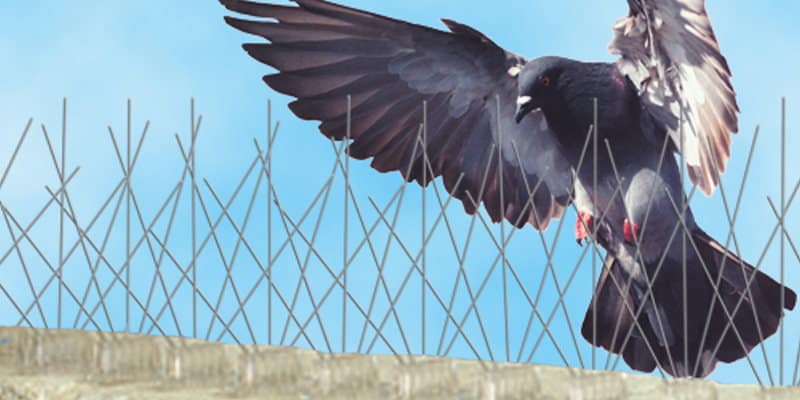 Pest Bird Spike Systems Offer Discreet Ledge Protection…
Pest Bird Spike Systems are relatively discreet and can be used to protect ledges, parapets, signs, beams, pipes, gutters, chimneys, roof ridges etc.
The term Pest Bird Spike Systems are given to Bird Deterrent Systems that rely on upward pointing wires or "spikes" to act as a Humane physical barrier to Pest Birds. This type of system is ideal for protecting buildings or structures in a wide range of situations, from daytime perching to night roosting sites.
When properly installed, a professional Pest Bird Spike Systems are discreet and difficult to see from just a few metres away.
Pest Bird Spike Systems Deter Birds From Roosting…
Pest Solutions carry out all aspects of Pest Bird Control throughout all areas the UK. We can provide and install all types of Pest Bird Spike Systems and all other Pest Bird Deterrent systems. Contact us today for more information or a free Pest Bird Control survey.
Our expert team of Pest Bird Control Specialists are highly trained and carry IPAF and PASMA certification to ensure that all work carried out at heights is done in a professional and safe manor.
Call Pest Solutions to Get Rid of That Pest Today..!
Extensive UK coverage from our many local regional branches gives Pest Solutions the capability to react speedily to assist you to take care of your Pesky Pests today. Pest Bird Spike Systems. Call today to get an experienced Pest technician visit and get that Pest problem under control quickly.
To have a member of our Pest Control service team carry out a FREE survey or a service visit today phone 0800 027 2555. Alternatively click here to find the details of your local Pest Solutions branch.